I recently received this as a gift from my boyfriends mum (it was my birthday the start of the month). As it's getting increasingly dark on a morning and actually throughout the day, when she asked me if I would like an illuminated mirror I obviously said yes.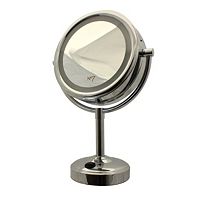 (
Source
)
The Boots website claim:
With the No7 Illuminated Make-up Mirror you get a bright start to every day and night. Just flick on the light for instant dressing-room glamour.
Hmm.
After reading some of the reviews on the Boots website, I'm now in two minds about whether having/using the mirror is worth it. I had noticed that by using brushes to apply my makeup with, I have to move back - out of the light of the mirror - to make sure I don't hit the mirror with the end of it, whilst then stopping and leaning forwards to see if I've done a good job or not and then back and forward and so on. Which is a bit of a faff.
I tend to put the mirror in front of my window where I obviously get quite a bit of natural light (however dim at the moment) and I find that it's easier to use the mirror without the light at all when applying my daily makeup, which to me makes the whole illumination thing a bit pointless.
However, in the instruction manual it does clearly state that this mirror is to be used 'in good lighting conditions' so although on the website it suggests the light in the mirror is like a beacon, it's really not. This mirror is for helping to 'banish shadows...give[ing] an even light cover over your face'. Again, I'm in two minds about this because obviously when concealing under eye bags, you're not going to want to try and conceal shadows that appear just because your ordinary lighting is a bit unflattering, but at the same time how is it meant to give your face even light coverage when to apply your makeup in the first place you have to be sat out of it's light?
Seems a bit contradictory to me.
On the other hand, the really good thing about this mirror is the 5x magnification and this is where the illumination really comes into play. I wear eyeliner pretty much everyday and I generally lean in quite close to my mirror anyway (obviously blocking out any natural lighting) so this lighting and zoom magnification is very very very much appreciated. This also applies to when I'm eyebrow grooming or if I have a particularly annoying blemish I want to conceal. For real close up work this is a very good product and it does exactly what it says it's meant to do.
I haven't used the mirror when there has been little or no natural light so I can't comment on how well it works in artificial light conditions (aka when you're about to go out on New Years Eve) however, I would definately recommend this product to a person who either wears eyeliner or intricate/blended eye makeup because the illumination and magification are perfect.
The pricing is a little expensive for my liking as the normal price of this product is £49.99. I wouldn't recommend it at that price, however at the moment it's on offer at £20, which is a serious bargain and like I said I would definately recommend it to other eyeliner fanatics such as myself.
x